Through the Artists' Eyes
The summer show at Art 3 Gallery will open on June 21 with an afternoon reception from 3:00 to 7:00 p.m. Join us to view the work of over 90 local and regional artists, focusing on the perspective of the world as seen through an artist's eye.
All artists celebrate beauty, recognizing what is special about even the most ordinary. In a collection of shapes, colors and textures, "Through the Artist's Eyes" is all about the artists' interpretations of life, and the stories and meanings depicted in their art.
"I am always in awe of the artwork we have here at the Gallery, and this show explodes in a kaleidoscope of color", says Joni Taube, owner and curator of Art 3 Gallery. "Visual language allows the viewer to explore the artist's imagination, providing insight into life and to transform moments, memories and the mundane into a work of art." Capturing the morning light, the reflection of water, or the noise of a street scene, the artwork is alive with energy. "Through the Artist's Eye" features a mixture of traditional, contemporary and abstract works exploring the patterns and rhythms of everyday life.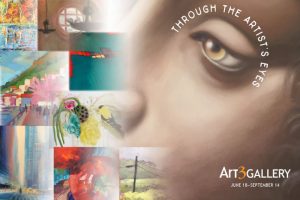 ____________________________________________________________________________________________________________________