Is Buying Art a Good Investment?
Most of what we sell at Art 3 Gallery is original artwork with the exception of some limited edition prints and lithographs. But does that mean that your purchase will increase in value?
The answer isn't a simple one. Some of our artists are well-known and have been collected by museums and corporations. Some artists might become successful and have the value of their work increase exponentially. There is no guarantee of the future value of any piece of artwork, even famous artists fall out of favor.
We encourage our clients to buy a piece of art because they love it. Art can enrich a collector's life in so many ways – it brings beauty into their home, adds richness and color to rooms, and may even be a conversation starter, an "emotional touch point."
Buying artwork can be an adventure, building a collection is a process refined over time. We hope that what you buy today will give you pleasure throughout the years and if it increases in value? Well then, it was a serendipitous purchase. But if it doesn't, it was still a great purchase.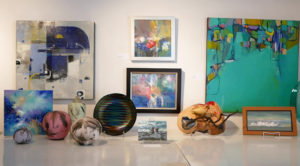 _______________________________________________________________________________________