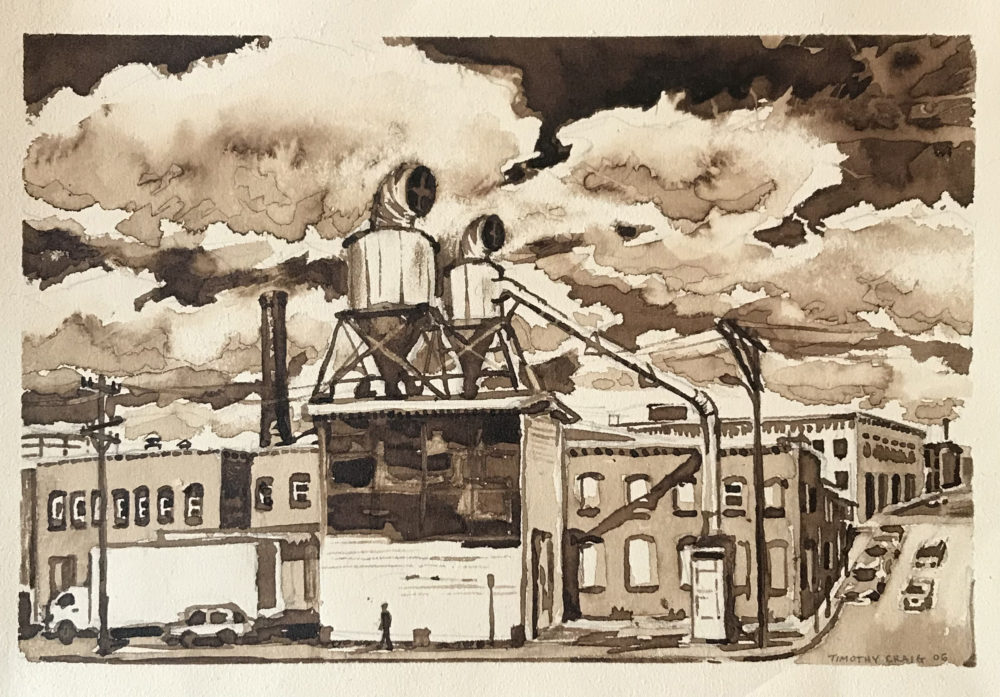 Tim Craig "Manchester – Lower Canal St."
6 x 9 inches, watercolor
Timothy Craig
Biography:
Timothy Craig was born in New Hampshire in 1970.
He received his Master's degree from Boston University, studying under John Moore and John Walker.
Timothy has painted cityscapes wherever he has chosen to live---Boston, San Francisco, Benares (India), and his hometown of Manchester, NH.
His love for printmaking, sculpture, and decoration has generated the textural, tapestry quality of his new cityscapes.
The artist and his family currently live in South America.

Artist's Statement:
These paintings try to capture the amazing beauty of the world around us, whether of nature or of the city. It is my desire to create decorative objects that represent reality, so that the three dimensional could be indicated by an eye-pleasing two dimensional design, with harmonious color arrangements, lyrical lines and an attitude of playfulness. Is it possible to make a landscape or a cityscape have all the decorative elements of a colorful tapestry, yet remain truthful in portraying depth and light? Vuillard explained: "For a decoration for an apartment, a subject that's objectively too precise could easily become unbearable. One would grow less quickly tired of a textile, of designs that don't have too much...precision."
The artist sometimes carves the thick paint with a linocut tool or a Dremel tool to simplify the outlines and force the "flatness of the design." A printmaking brayer is sometimes used to apply paint to enhance the surface texture.