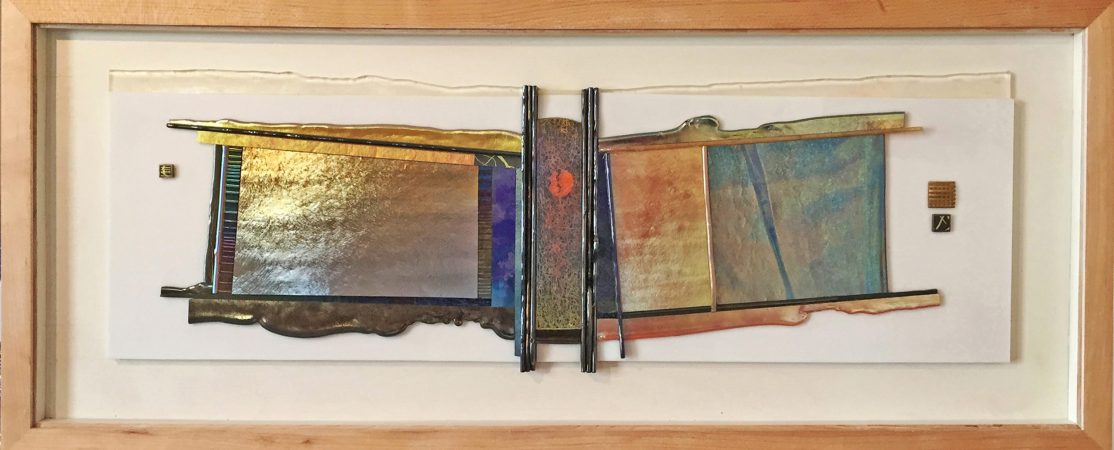 Thomas Meyers "Satellite Series 4"
"Satellite Series 4", 31" x 13" inches, fused glass and mixed media
Thomas Meyers
Thomas Meyers has been a resident of Hancock NH for 35 years. A graduate of the Rochester Institute of Technology, Meyers also studied at the Boston Museum School and with several German artisans.
Understanding Thomas Meyers' ability to bring vision while establishing artistic order of disparate elements is to picture the transformation of a pile of stones into a beautiful stone wall, each element occupying its correct place. This ability is not common and is vital to the creation of his works.

Artist Statement:
The idea for this paper work comes from the exploration of various types of visual communication, spanning the ancient to modern, such as; cave painting, written languages, calligraphy, maps, and charts. Continuing that tradition, the imagery in my work references these forms of expression and collages a bit of history. This work is a combination of collage and drawing. It is made with recycled printed paper, which has been treated to remove the ink.

I draw with a knife, and then apply ink washes to reveal those marks and torn edges. The pieces of paper are arranged, sometimes in layers and also at times woven. Casein paint and or colored pencil is used under the paper and revealed through the holes in the treated paper. All is glued with rice starch paste to a gesso coated watercolor paper. Additional coloring and drawing sometimes occurs after gluing.