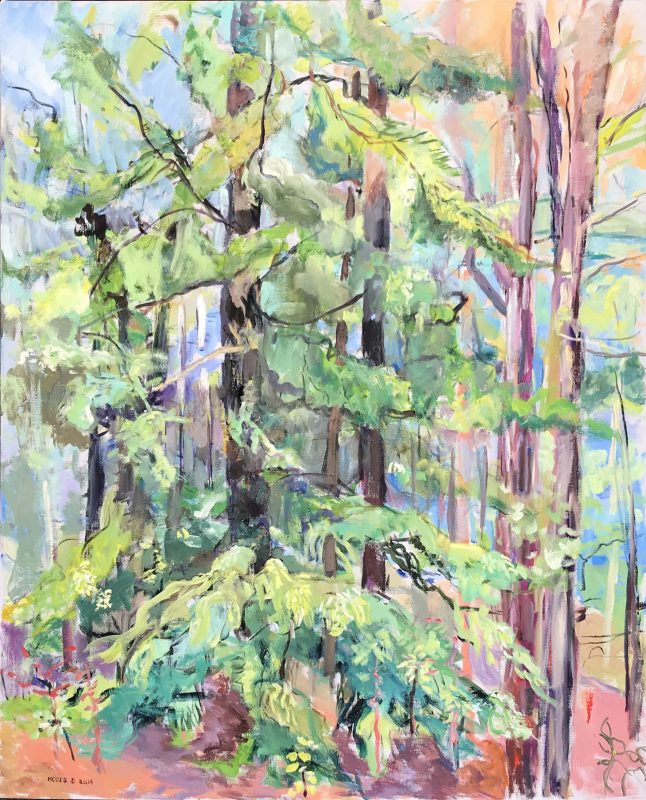 Suzanne Hodes "Hemlock in Spring"
40 x 32 inches, oil on canvas
Suzanne Hodes
Suzanne Hodes is a distinguished painter and printmaker. Suzanne grew up in New York City and attended Radcliffe College, transferring to Brandeis to major in studio art. In the summer of 1959 Hodes traveled to Salzburg, Austria to study with Oskar Kokoschka who greatly influenced her work. After receiving her Master of Fine Arts degree from Columbia University in 1962, Hodes was awarded a Fulbright scholarship to study in Paris. Suzanne's work covers many themes: portraits, landscapes, city life and social commentary. She works in a broad range of mediums including , oil, watercolor, pastel, charcoal, and monotype. Her work is in many museum and corporate collections, including The De Cordova Museum, The Fogg Art Museum, the Boston Public Library, MOMA Library, and Rockefeller University. Most recently, Hodes has written "Studio Days: A Memoir" which is about the ups and downs of the creative process, its challenges and joys, its successes and failures, and includes over 100 color images of Hodes' paintings, prints, and drawings.

Artist Statement:
I have long been drawn to imagery of water, with its constantly changing depths and surfaces, its mirroring of sky, clouds and wind. My recent mixed media paintings are inspired by the changing seasons as they reflect changes in our lives.
I let the line and color move around the paper, zigzag, flow up and down, above and under the water, moving with the breeze. I am drawn to the constant movement, energy and rhythms of city spaces. My work combines images of the directly observed world with those from my memory and imagination.