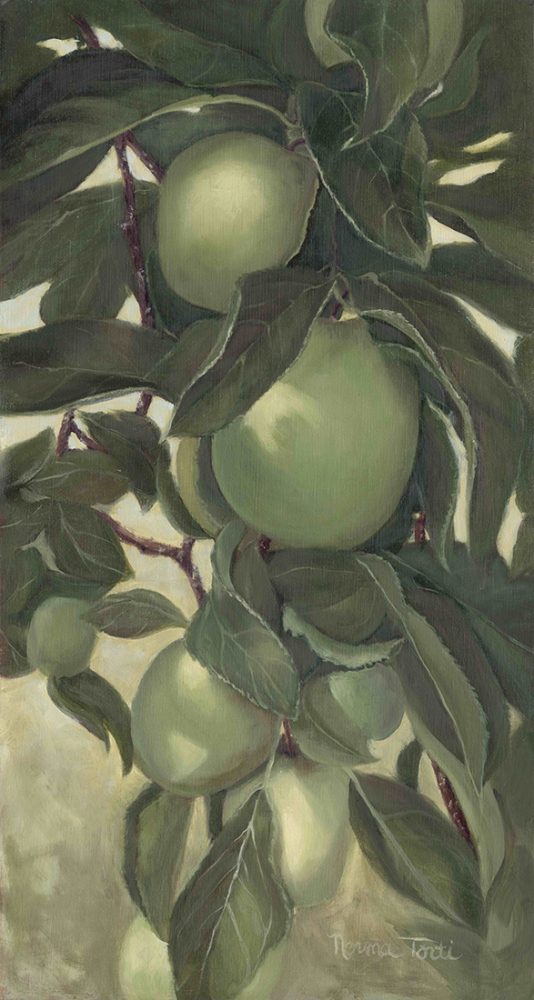 Norma Torti "Greens"
13 x 24.5 inches, oil on canvas on panel
Norma Torti
Norma Torti is a New Hampshire seacoast artist specializing in representational oil painting. Her interest in art history and where she grew up influence her choice of subjects and style of painting. She has over forty years of painting and drawing experience and education in classical, and most recently Boston School impressionist oil painting styles.

She currently displays her atmospheric still lifes, landscapes, and florals at Art 3 Gallery, Manchester, NH. Her award-winning paintings were exhibited at galleries in Massachusetts, New Hampshire, Maine, Tennessee, and Missouri, and published in a Boston publication, Studio Visit. She is an active member of the American Impressionist Society, Inc. She was chosen for inclusion in the "Artists of the Seacoast" for Families First. Her work was showcased in the NOAPS International Exhibition and National shows, "Best of America." Norma's body of work, "Honoring Juddy" was exhibited in several solo shows and at the Children's Museum of NH exhibition, "Music: The Universal Language."

Norma currently is enrolled in the Boston School Atelier working with master artist, Paul Ingbretson. She studied classical realistic painting and drawing with two instructors who were trained at the School of Visual Arts NYC and Aristides Atelier, WA, respectively. She furthered her classical oil and pastel painting skills with Daniel Greene, Master Artist, N. Salem, NY in 1992. Norma studied representational painting, drawing and sculpture at the NH Institute of Art from 1991-2003. Some of her first training was through resident workshops with Jack Callahan and plein air teachers, Rockport, MA 1980-1983.

Sharing her talents with the community is important to Norma. She created and directs the "Arts for Angels Program" of Annie's Angels Memorial Fund. The program brings customized art projects to people in assisted living, hospice, and adult day out programs. She also donates her talent to other local groups such as Homemakers Health Services, Seacoast Family Promise, and Veterans Count. Norma provides private instruction and holds workshops at her studio in North Hampton.

Artist Statement
Revealing and sharing the truth about the beauty and goodness around me is why I create art. Every day I feel a childlike freedom as I observe colors, textures, and contrasts of simple things, especially in nature. I love to transform an empty canvas into a full, detailed story of my subjects in living color. It is more than the mechanics of painting or drawing; it touches me spiritually when I see the image slowly coming to light.

I am committed to perpetuating the historical painting and drawing practices of artists from the 16th and 17th century with contemporary subjects. I begin with a detailed drawing, mass in colors, and meticulously build the paint layer over layer until finished. The subjects I choose and the realistic style of my work invites people into each piece where they may connect to their own truth.