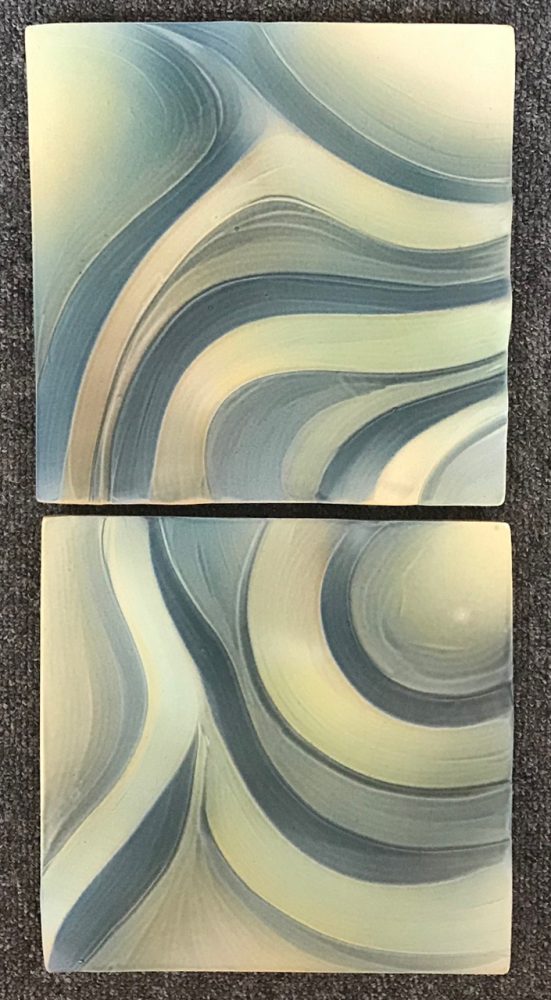 Natalie Blake "Tile Pair"
12 x 12 inches each, ceramic
Natalie Blake
Natalie Blake is a Vermont ceramic artist. She has been greatly influenced by her time spent and studying in several countries. Natalie lived with her parents for several years in the West Indies, and traveled extensively through South America. She is a graduate of Kenyon College with a degree in ceramics and painting.
Natalie credits her first influence in college, Susan Balboni, who referred to the vessel as a spirit keeper. The concept of the vessel as the safeguard of the space inside is prevalent in all of her work.
Natalie's pieces are thrown, carved, fired with stone-matte surfaces in rich colors, and her vessels are finished with hand built lids in porcelain. Her carving is inspired by aquatic, botanical, industrial, and mythical elements. The sculptural components and layered colors create a lush depth of surface, an inviting texture, and a sense of three-dimensional space. Her carving has been referenced to folded fabric, conjuring the image of expandability through breath. Creating a piece that conveys fullness and ripeness is what satisfies artist Natalie Blake.