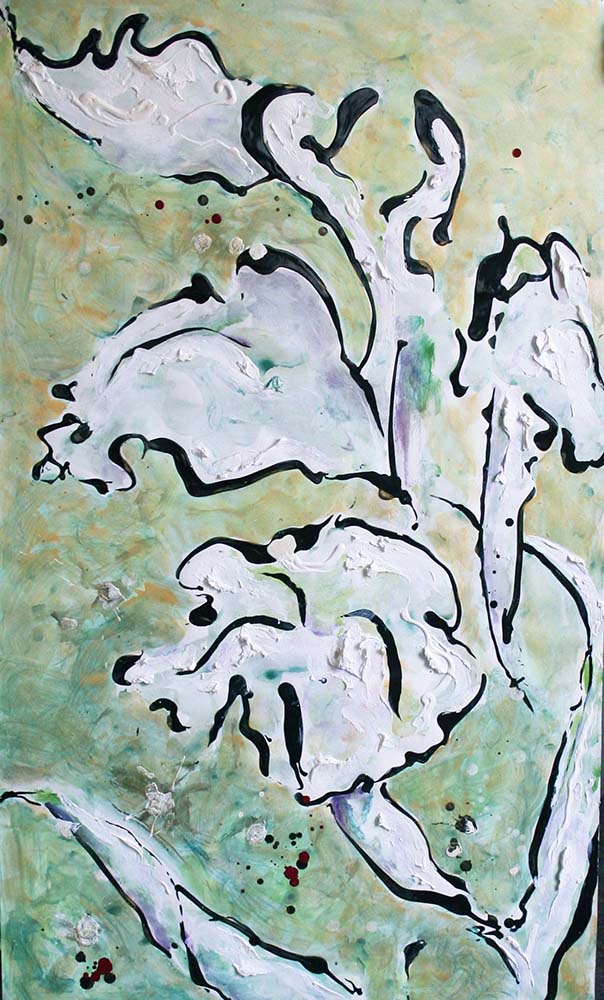 Dorothy Arnold "Flower Ballet #7"
29 x 50 inches, oil on paper
Dorothy Arnold
Dorothy Arnold was a well-known artist from Boston, who went to the School of the Museum of Fine Arts of Boston in her fifties, and then dropped everything in her life to focus solely on her passion, which was art.

Dorothy worked in landscape, abstraction, and figurative genres. With a constant blend of movement and a sense of a figurative presence, Arnold evoked personal memories and experiences through her paintings. The artist said, "The rhythms of nature have always influenced not only what I paint but how I paint. Be it sky, clouds, trees, or water, my hand and my body must become a part of the rhythm." The feeling of movement throughout Arnold's work leaves the audience with a sense of transition that carries one's eyes fluidly over the canvas.

Her abstract figures have at times been the result of accidents, such as a can of red paint tipping over, and drying on the floor - which she then peeled off and attached to a black canvas.

Trees are a major subject of Dorothy's art, as well as figures. However, Dorothy explained, "Trees are like people, there are trees that fit in, and trees that are left out." Her tree paintings are displayed at Mass General Hospital's cancer unit. She said they are appropriately placed there, because "they are right where people get taken up into the sky."

Known nationally and internationally, Dorothy's work was shown in solo and group exhibitions. She received numerous awards, including a Massachusetts Artist Fellowship. In 2002, Arnold's work embarked on a three year retrospective that began in Germany, traveled to Russia and Italy, and completed its tour in the States.